CATIE CURTIS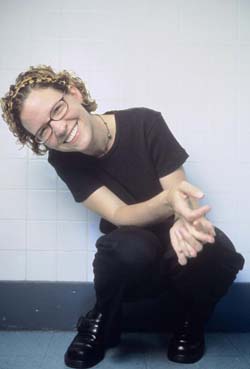 MY SHIRT LOOKS GOOD ON YOU is Boston-based Catie Curtis's fourth album, and her strongest collection of songs yet. This album expresses Curtis's authentic voice--her honesty, emotion, playfulness, humor and insight. It underscores Curtis's singer/songwriter roots but also ventures into new territory through her collaboration with other artists. Thematically, Curtis explores the nuances of love, philosophy and social issues in her plain-spoken, straight to the heart narrative fashion. Musically, Curtis drives the point home with this beautifully recorded, thoughtfully arranged, powerful album.
Catie Curtis first gained recognition in the Boston folk scene and was picked up by the EMI/Guardian label, which released both her debut TRUTH FROM LIES (1996), and her second album, CATIE CURTIS in 1997. The latter, a lush pop-folk album, netted critical accolades and contained the single "Soulfully," which received substantial radio airplay and was featured in episodes of Dawson's Creek and Chicago Hope. Although Guardian closed its doors shortly following the album's release, Curtis gained a passionate following through her live shows: she toured extensively in the U.S. and Europe, supporting a wide range of artists, taking part in Lilith Fair, and headlining her own shows. Along the way, Curtis garnered critical attention and praise for her intimate and striking songs ("…clear eyed vignettes that avoid sentimentality and poetic loftiness but convey feelings with a casual directness."-New York Times) and was dubbed a "folk-rock goddess" by the New Yorker. In 1999 Rykodisc released her third album, A CRASH COURSE IN ROSES, a hauntingly emotional exploration of how sudden and dramatic events impact one's life.
The new record, MY SHIRT LOOKS GOOD ON YOU, marks a transition from Curtis's solo work to a much more collaborative, band-oriented approach. In the summer of 1999, the Boston music community lost one of its most creatively inspired musicians, Mark Sandman of the band Morphine. Curtis explains, "Sandman was always in several bands at once and never hesitated to collaborate with other musicians, even those with styles wildly divergent from his." The tragic loss of Sandman, who died unexpectedly of a heart attack while on stage in Rome, jolted Curtis into reaching out to work with other artists in Boston's vibrant music community. MY SHIRT LOOKS GOOD ON YOU includes a co-write with fellow songwriter Mary Gauthier ("Sugar Cane"), co-writes with Billy Conway (of Morphine), Jeff Berlin, Andrew Mazzone, and long-time sideman, mandolinist Jimmy Ryan. In addition, the album includes a previously unreleased Mark Sandman song, "Patience."
By the fall of 2000, with the new material almost completed, Curtis went on tour with Dar Williams. "Dar's audience really demands and appreciates lyrically challenging and interesting songs. The tour was definitely inspiring," says Curtis who wrote three songs while touring with Dar ("Love Takes the Best of You," "The Big Reprise," and "Elizabeth"). During this time, Curtis connected with Grammy™-winning producer Trina Shoemaker, and made plans to record in the winter of 2001. Shoemaker, Curtis and her band retreated to Dreamland, an old wooden church in upstate New York, converted into a studio. The atmosphere of these sessions was loose and inspired by the space. "We had an amazing experience at Dreamland- the light streaming through the stained glass was just so beautifully unstudio-like. Trina used microphones that were hanging from the ceiling of the wooden sanctuary to capture swirling ambient room sounds, not to mention the ghosts that they say hang around during these sessions." Co-producers Curtis and Shoemaker were determined to avoid the conventional drums/bass/electric guitar formula of most pop-rock records. Instead, the arrangements center around Catie's vocals and Jimmy Ryan's unique electric mandolin sounds, which define the melodic and textural landscape of the record.
MY SHIRT LOOKS GOOD ON YOU is a gregarious and striking album. From the dusky "Love Takes the Best of You," a first-person story of international adoption, and "Don't Lay Down," a letter to a friend struggling with a life-threatening illness, to the songs of romantic love, these songs express genuine vulnerability, but they aren't fragile. MY SHIRT LOOKS GOOD ON YOU is sure to please fans old and new.