Lynn Miles
A most Melodic Canadian,
By Arthur Wood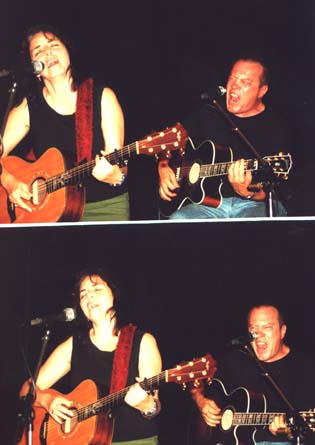 In February 1996, Rounder/Philo released Lynn Miles' solo album,Slightly Haunted. Upon first hearing the recording I was totally bewitched by her songs and some six years later, with a further pair of recordings in her catalogue, I still remain so. A Canadian by birth, this songbird wields a double-edged blade. There's that voice which possesses a plaintive and pleasing ache, and then there are those heartbreaking lyrics that she so knowingly creates.
Our story begins in late September 1958 in Sweetsburg, Quebec. "It's one of the Eastern townships of Montreal," said Lynn's brother Steve, now a television cameraman, who had arrived one year earlier. Aged eight, Lynn vividly recalls watching an "Ed Sullivan Show" saying, "I saw a woman with beautiful blonde hair, playing a guitar. I don't know who she was, but I wanted to be like her. We had given my father a guitar for Christmas and I ended up playing it. When I was growing up, my mother listened to opera and country music, while my father preferred jazz and played the harmonica. In public school, I studied violin and flute. When I was sixteen, I started taking piano lessons. These were private lessons which I financed with babysitting money."
For her thirteenth Christmas, Lynn received a copy of Carole King's multi-million seller, Tapestry. "I learned all the flute parts and the finger picking stuff, all the harmonies. I was ready, if she came to town. I used to fantasise that somebody in her band would get sick and I'd have to go fill in for them." Lynn recalls writing her first song at the tender age of ten. Initiated by her mother, from an early age Lynn became a voracious reader and still is.
"The first time I performed in public, I was probably about sixteen. I don't know how I got the nerve to do it. It was at a high school auditorium. I remember the incredible applause. I was a very shy person, so the applause was a real drug for me. It made me want to keep on performing. When I was twenty, I wanted to have a stronger voice, so I studied with an opera singer off and on for about two years." As for performing in public, initially Lynn played in local bars and clubs with guitarist, Mark Thibeault. In the late seventies, she teamed up with Terry Tufts. "He's a great guitar player. We shared an interest in the music of Gram Parsons, The Eagles and Jackson Browne. Our gigs consisted solely of playing covers of their music. This was mostly in Ottawa, although occasionally we'd work out of town."
Concurrent with the latter events, Lynn began a degree course at Carleton University in Ottawa studying the theory and history of classical music but she never completed the course. Lynn recalled, "In that field of music, even perfection is not good enough." Even though Lynn's catalogue of original songs was extensive by this stage, the financial security of playing cover songs in bars and clubs prevented her from airing her own material. In the early eighties Lynn took the decision to stop playing covers; her strategy for the future involved only performing her own music in public. Miles made her first foray into the world of recording in 1987. The self-titled cassette tape which Lynn co-produced, featured nine of her compositions and was cut at Happyrock Studio in Ottawa with the aid of friends including Terry Tufts. On that tape, "The Art of Self Defense" and "White Knight" hinted at the musical magic that was a few years farther down the road.
Additional support in balancing her personal finances arrived in the form of employment at The Ottawa Folklore Centre as a voice teacher. "Alanis Morissette was one of my pupils. This was when she was fourteen and about to make her first album." As for Lynn's own public appearances she says, "I only played gigs I really wanted, where I could perform my own songs. I worked with a band sometimes. Sometimes solo. On the strength of my first tape, I started to work out of town."

During the mid-eighties, Alex Sinclair established Ottawa-based Snowy River Records as a support mechanism for local acoustic musicians to issue independent recordings. Lynn Miles was an early release. Featuring a dozen of her compositions, Lynn's sophomore album Chalk This One Up To The Moon was released on CD by Snowy River in 1991. Recorded at Sound of One Hand Studios in Ottawa, Bill Stunt, who worked for the Canadian Broadcasting Commission, produced the disc.While her debut set hinted at a songwriterunder development, Chalk This One Up To The Moon provided ample proof that Lynn possessed an exceptional talent for marrying thoughtful lyrics to memorable, hook laden, melodies.
"It's Hockey Night in Canada" was written from the perspective of a girl growing up in Canada, where ice hockey takes over the airwaves and the minds of men from October till May. My father was a hockey coach. The song is about memories I have of walking home through the snow and seeing television sets glowing blue in living room windows. Watching hockey. "All I Ever Wanted" is about being a tragic romantic. I wrote it after reading this great book called "The Enneogram." That book sets out nine main character types. The song's about always choosing the wrong kind of person to be in love with and all that melancholy stuff which happens when you're tragic."
Aided by her manager and her two recordings, Lynn began gigging in New England, particularly around Boston. She also made a couple of trips to Alaska, and each summer Lynn performed at a swathe of Canadian open air, music festivals. She also toured, remorselessly, the length and breadth of her homeland. At the 1992 Mariposa Folk Festival in Ontario, Lynn met Guy Clark. "I started talking to him and he introduced me to his producer, Miles Wilkinson. Miles asked for a tape of my second album. He called me the next day and said that he would get me a publishing deal. Some time later Bo Goldsen from Criterion Music phoned me and said, "I want to be your publisher."" Criterion Music was established in Hollywood during the forties by the Goldsen family.
The January 1993 issue of The Fast Folk Musical Magazine contained a double CD titled, Lost In The Works, that featured recordings made during 1990 at CIUT-FM, a Toronto radio station. Lynn's self-penned contribution was titled, "November." The lyric refers to "loons," as does her song "Loneliness" on Slightly Haunted. "Loons are symbolic to me. They're beautiful black and white birds and live on lakes. They mate for life. It's a very Canadian experience to sit in a cabin in the woods, beside a lake, and watch the sun go down and listen to the cry of loons - it's a very lonely and very beautiful experience."
Lynn's cut Slightly Haunted at Lakeside Studio in Clayton, Ontario during October 1994 with Jeffrey Lesser, who had previously worked with Lou Reed and Loudon Wainwright, enlisted as producer. "I didn't want to put out an independent album. I wanted to have a deal and started playing showcases. My manager, publisher and producer began contacting people. I played in New York and Nashville as well. Ken Irwin of Rounder Records finally offered us a deal, which I signed at the end of September." Sixteen months after making the record, Rounder/Philo finally released Slightly Haunted.
Fellow Canadian, Jann Arden, and American writers Karla Bonoff, Beth Nielsen Chapman and Jennifer Warnes work the same musical territory as Lynn, and her compositions are a hook laden amalgum of Pop, Folk and Country - with anemphasis on the latter genre. At the time of its release I described the contents of Slightly Haunted as eleven self-composed, 'flawless gems set in a bed of platinum.' Nothing has changed that assessment. Ian Lefeuvre's lead guitar perfectly complemented Miles' voice. As for Lynn's melodies, heard once, you're hooked by miles and miles. "I Loved A Cowboy" screamed hit and may still be one someday, while "The Ghost of Deadlock," "This Heart That Lives in Winter" and "I'm Still Here" were equally memorable tunes. Fred J. Eaglesmith penned the sleeve notes and that year Lynn provided backing vocals on a couple of tracks on Fred's album Drive-in Movie. Following the appearance of Slightly Haunted, Lynn began to, and has continued to, tour Europe on an annual basis.
In 1997 Lynn moved to Los Angeles, where she remained for a couple of years, before returning to Ottawa. Night In A Strange Town, produced by Larry Klein (who has worked with Shawn Colvin and Joni Mitchell) and John Cody, was recorded there during the closing months of that year. Her sojourn in California was not an especially happy one, as can be heard in the lyrics of the opening cut "Anywhere" - "I'm tired of this town, This town is tired of me." As for her reflections upon life in that state, "Sunset Boulevard," includes the lines "There's lithium in the sunsets, there's rats in the streets" and "Just forget about that loser, 'cause he ain't goin' far."
To date, Lynn's fifth studio album has been released in Europe by Continental Record Services, and in her homeland by True North Records. It's somewhat ironic to consider that Continental, the European arm of Rounder Records, financed the recording, yet Philo has chosen not to release the disc in the States. Recorded during 2000, Unravel finally surfaced in late 2001 and was produced by Ian LeFeuvre who had played on Slightly Haunted, and has toured with Lynn on a regular basis since the early nineteen-nineties. On the recording, LeFeuvre's inspired percussive fills and minimalist guitar licks add something special to many of the songs. "Surrender Dorothy..." draws its inspiration from The Wizard Of Oz and instantly became one of my All Time Favourite Songs. Apart from melancholy, Miles injects perfectly pitched humour into the song - you may recall those red slippers and Toto, so the words "these shoes are too tight, the damn dogs got fleas" fit perfectly. The narrator of the upbeat title cut appears to be coming apart at the seams, as she reflects upon her life - "It took me four long years to crawl down to this place, It'll take four to get back and it ain't no race." Although the location isn't named, the city of the angels is a definite possibility. I recently heard Iain Matthews perform "Unravel" in concert, and he's a practised exponent in judging what makes a great song. So here's to Lynn Miles, whose songs embody magnificent melancholy and memorable melodies, by Miles and Miles. What else do you need.......................
Arthur Wood is Contributing Editor, UK Desk for FolkWax.