Erin McKeown
site link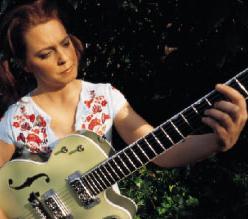 New album "Grand" Released February 2004
Biography

25-year-old Erin McKeown is a rare find. While the category of singer/songwriter continues to wander down the path of certain homogeneity and female artists become, by and large, either Britney/Christina knock-offs or dubiously tortured souls, Erin offers something that threatens to move the goalposts. As long as music fans continue to yearn for the acerbic wit of Randy Newman, the innovative stylings of Bjork and Liz Phair, and the intricate arrangements of Elvis Costello, Erin's latest and third full-length record, Grand will prove necessity in any music lover's collection.
As for some history, Erin originally hails from Fredricksburg, Virginia. She started playing piano at the late age of three and has since adapted smartly to a slew of other instruments including bass, drums, and most of all, guitar. Having her start in a cover band when she was still in high school, she realized early on what she was up against. "Being in a band with some teenage boys when you're a 15-year-old girl isn't all that fun," she remembers. So, writing songs seemed the natural progression.
Erin had an array of interests growing up. Although she entered Brown University with plans to study biology, she graduated with a specialty in musical theater. "As soon as I realized I didn't want to be a scientist, I started going around to local places and playing open mikes. So by the time I finished my first year of college I was hopping the bus, going around, and playing shows."
Playing her songs in front of people soon became an obsession with Erin, as well as her strongest suit. She has built a substantial fan base in the true troubadour fashion of touring and has sold nearly 30,000 copies of her full-length debut, Distillation, both in stores and from the stage. Produced by friend and musical soulmate David Chalfant, Distillation was released by Signature Sounds in 2000 and received vast critical acclaim. UK's Mojo describes it as "… adroit guitar leads into jazzy shuffles to suit vocals combining Bjork's girlishness with Rickie Lee Jones' sophisticated confidence." On the strength of Distillation and stellar live performances, she snagged top honors in the Providence Phoenix's music poll for "Best Folk Artist" of 2000, not to mention a Boston Music Award nomination for outstanding new singer/songwriter.
This spring, Erin McKeown will give us Grand- a wonderful and diverse palate of a record pulling its mood from straight up pop n' roll, to New Orleans jazz to folk, fractured blues and more. The album reunites Erin with David Chalfant as producer and features drummer Brian Jones (Agents of Good Roots) and drummer George Javori (Shivaree, Natalie Merchant), as well as Erin on the acoustic and electric guitar, piano, mandolin, banjo and pretty much anything else she could get her hands on. But most of all, her distinctive and emotive voice box- "I feel like Grand is quite a bit closer to what I'd put in my CD player than Distillation," Erin says as she sits out on the rooftop deck of a West Hollywood hotel. "What I was hearing in my head was quite a bit more complicated and ambitious in terms of singing than what I was doing on Distillation."
In the fall of 2002, Erin, David, and Brian Jones holed up for two weeks at the legendary Longview Farms Studio, in North Brookfield, Massachusetts. They worked and lived in an 18th century farmhouse, tracking more than two-thirds of the record in that short amount of time. Erin and David then returned to David's studio, Sackamusic, in Conway, Massachusetts, to add the final vocals and finishing touches to Grand.
While working at Sackamusic, Erin and David's vision for the record came into clearer focus. In January 2003, determining that Grand needed an extra kick, they added four more songs to the original version. "I wrote 'Slung-lo' and 'Cosmopolitans' late in the recording process and called up George Javori at the last minute," says Erin. 'Lucky Day', a morphine induced cover of a Judy Garland standard is the first and only take Erin and George played in the studio.
That electric spontaneity is evidenced from the outset with the painted-on-smile of 'Slung-lo' and punchy crunch of the guitar-laden 'Cinematic,' a song Erin feels encapsulates the old Hollywood theme and spirit of the new album (Judy Garland, in particular, inspired the song). "I believe that most of the subjects that are covered on Grand, you can find in 'Cinematic,' " she says. "That song lays out the terrain of the record, whether it's musically, emotionally, or lyrically."
But while 'Cinematic' palpably sets the tone, songs like the emotionally stark 'A Better Wife,' the sultry 'The Taste Of You', and the fierce lounge of 'Cosmopolitans' provide the heart and soul of the record. Judy Garland then makes a return cameo in the album's finale, 'Vera,' about Igor Stravinsky after he moved out to L.A. in the late 1940s. At the time, he had endeavored to write an opera with Dylan Thomas. But Thomas died and never actually made it to Los Angeles. So, the song, originally penned for an opera, is about Stravinsky's waiting for Thomas, his life in limbo, recovering from tuberculosis under the stars of Hollywood.
Erin McKeown's musical tastes are as diverse as the arrangements on Grand. Besides Garland, she counts Edith Piaf and Patsy Cline among her favorite vocalists. But ask her what's in her CD player now and she responds, "Missy Elliot. I've been on a big hip-hop kick lately." She loves Radiohead, too.
Though her fan base and notoriety are growing, Erin wants to keep things simple. "I hope that people who like good music, above and beyond any genre, will get this record."
Press Quotes

"Has a sepia-tone voice that belies her 25 years, slips easily from the speakeasy smolder to ingenueish indie- rock"
Elle
"A singer songwriter introvert who just happens to be partial to pop and a bit of jazz… she writes intriguing lyrics and sings them in a cool glassy voice. The gal's got something." The Guardian
"Virginia born Erin is unlike any other American singer songwriter you'd care to mention… irresistibly infectious her sweet lullabies are built around melodies so crisp they almost overdose on sugar. Entirely sublime she is clearly one of the US's quirkier current music exponents." Q
"Resolutely lo-fi underpinnings to her acute observations about human foibles and shortcomings. She may be getting harder to pigeonhole, but in several distinctive ways, voice, dynamic subtlety and above all sheer songwriting ability, she is in a class of her own." Sunday Times
"Clearly cares more for old-fashioned music than modern-day pop. Has a 1940/50's feel in her flighty mix of folk, swing, bluegrass and jazz." The Times
"Her debut album was a wonderful, homespun affair that sounded like a one-woman version of the Be Good Tanyas. The follow up is even better. Folk jazz hip-hop country rock that doesn't fit quite anywhere. Ms McKeown has forged a quite unique musical identity for herself." Uncut
"You can take the girl out of the south but you can't take the south out of the girl. She achieves a co-mingling of folk, punk, jazz and Broadway that's as charming as it is unique. Her music is as beguiling as its diminutive creator… rich and warming as her favorite tipple… positively glows with good humor. Cute without being self-consciously clever. Accessible, but complex playful songs." World Feature
"The pint-sized McKeown has an entrancing, easy voice and an early-jazz vibe., her vibrant set covers sources as varied as Judy Garland and Coldplay. She's cool, she's funky and, is a natural, grooving on throaty licks and sinuous rhythms. She's just plain WAY talented." Boston Herald
"A breath of rarefied air in the guise of an anachronistic songstress. who continues to refine her show-tune smarts, nicking everything from Tin Pan Alley ivories to concertina wheeziness to jazz guitar à la Django Reinhardt to forge an old-fashioned brew that springs as organically from this precocious Virginian as the auburn pigtails from her head. Her operative mood is effortless grace. Let it whisk you away." LA Weekly Preview
"The kind of smart, songwriter that fans of Randy Newman and Susan Vega should seek out." Washington Post
"Nick Drake re-incarnated as a young slightly more joyful woman." Time Out NY
"Armed with a prodigious talent she exhibits an equally sweeping knowledge of musical genres, duein part to her degree in ethnomusicology." Paste