Lee Mack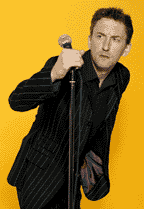 Sunday Times
January 09, 2005

This stand-up's got legs
Lee Mack is set to become one of our most famous exports.
So why is he still worrying, asks Stephen Armstrong
I meet Lee Mack in the basement of an almost trendy bar. The staff aren't sure whether to be rude or pleasant — they bring our drinks to the table, but refuse to turn the music down. The place looks popular, but it is filled with people whose clothes aren't quite fashionable enough. We agreed on the venue through geographical convenience, but, as the interview progresses, it seems an increasingly apt place to meet Mack — a place that isn't entirely sure where it sits, but is hugely successful all the same.
Mack rarely gives interviews. Not because he refuses — although he is cynical about them — but because he isn't asked as often as the comics who sport the latest shtick. Picture desks like comics who dress as trees or women or dictators, while journalists like to tap the new zeitgeist. Mack stands on stage in ordinary clothes and tells jokes
("I remember the last thing my nan said to me before she died: 'What are you doing here with that hammer?'"). There are those who call him old-fashioned. It's a phrase he hates.
"It does annoy me," he nods quietly. "You get judged on your accent and the way you dress long before your material. If a posh comic comes on stage, he can talk about the most disgusting, foul-mouthed things, and people will go, 'He's that middle-class comic.' I'm the cheeky northerner. As a result, I'm very reluctant to talk about my influences, because, yes, to be honest, if you asked me to list my favourite comics I would say only one or two would be, well, still alive. I look up to Stan Laurel, Eric Morecambe — people who weren't on Saturday Live. Don't get me wrong, I don't want that old, pre-1980s horrible racist comedy back. I just don't seem to fit in either camp."
Which usually leads to his next big bugbear — mainstream. Mack is about to become as mainstream as you can get. His ITV skit collection The Sketch Show, which was big in Australia, but critically ignored here, has been picked up by Kelsey Grammer to be his first post-Frasier project. Grammer joins an ensemble cast, with Mack the only original UK performer to jump the pond. At the same time, the BBC has given him a Saturday-afternoon show on Radio 2, following straight after Jonathan Ross. On top of that, he is embarking on his second full UK tour. By the year's end, he could be one of our most famous exports. So why does he still feel the comedy world will look down on him? "Other comics use the word mainstream as an insult," he explains. "'I really loved your act, Lee. It was mainstream, but I really enjoyed it.' Like it's a shame that I appeal to a wider audience. Without wishing to get too deep about this, I think it's got a lot to do with class. I think the mainstream usually means working-class people. It's like saying you can't be good if the working class likes you. In America, they don't even have the word mainstream. If you're a good comedian, then you're good. If loads of people laugh at you, then you're good and you're successful. Here, we judge it in a different way."
Perhaps Mack's comedy has always been about avoiding judgment. A bright kid at primary school, he started acting up after his parents split up and he moved from the mill town of Blackburn to the wealthy seaside town of Southport. "It's true, these clichés you see in Kes — mill-town kids are small," he says. "When I turned up in Southport, everyone was tall and healthy, and looked about five years older than me. I was the little kid with the funny accent, and everyone was laughing at my voice."
Impressions of Tommy Cannon got him through his first year, and clowning took root. He knew then that he wanted to do stand-up, and he still keeps a school report that says: "Sooner or later, Lee will realise that joking around in class will get him nowhere." He was going to frame it and stick it next to his Bafta, but thought that might be a bit sad.
His dream of stand-up was so strong that it scared him. What if he tried and failed? So he put it off for almost 10 years, leaving school to muck out Red Rum's stables, work at Pontin's and so on through numerous dead-end jobs, until he came back from six months in Australia and decided to go to college. It was the kind of degree where you can do a module in anything performance-based, so he did stand-up and counted it towards his degree. "My first gig was an open spot," he recalls. "The material was quite weird. I was so scared, I did old jokes, so if they didn't laugh I didn't write them, and some weird stuff without punch lines, so if they didn't get it, they'd think they didn't understand it."
Of course, they laughed, and they're still laughing. But Mack's next step was the opposite of every ego-driven "me, me, me" stand-up: he sought collaborators. His appearances at the Edinburgh Festival have tended to be sketch shows; most recently, 1999-2000's Lee Mack's Bits, which garnered a Perrier nomination and provided the impetus for The Sketch Show. "If I'm honest, I didn't have a particularly good time in Edinburgh alone," he says, grinning. "I remember thinking that I wanted to have a good time with this job, so if I'm going to stand on stage and be miserable, if I'm going to die on my arse, then I want to look left and right, and see people going down the pan with me."
Now 36, he has matured — his first child was born recently, almost 10 years to the week that he started in stand-up. He is approaching his tour confidently, although with hints of his old, self-deprecating style. "There are so many comics doing massive shows with two halves, and I can't get my head round that. An hour of showing off is about enough for me. When I come off, it's like, 'That was brilliant, loved it, now can I go home?' Not, 'I know, I'll do a second half.' That's like bungee jumping, then going right back and doing it again."
He muses for a second. "When comics say stand-up is better than sex, I do worry that I'm missing something," he admits. "I mean, I want to be the best stand-up comedian in the world. I want loads of people to come to my shows. But I sometimes worry that I haven't got that thing, whatever it is. I intend to retire early, put it that way. I don't want to be Billy Connolly, still doing it in my fifties and sixties. After all, comedy is the only field where you have to qualify its best practitioners — comedy genius. You never hear people say Einstein was a science genius, do you?"
Lee Mack's tour starts in Exeter on Thursday. For details,

BAFTA Award Winner, British Comedy Award Nominee,
Perrier Award Nominee and star of ITV1's Stand-up comedy.

Just me, and a microphone. Nice and simple, just how I like it. And an audience of course. That's important. But that's it. That's all I need. Me, the microphone, and the audience... Oh yeah, and a theatre. For the audience to sit in. But apart from that nothing else. Because that's all I need for a top night of... Oh yeah and a P.A. system. But nothing else. No props. No gimmicks. Just me, the microphone, a theatre audience, a P.A. system and a gimmick. Oh yeah, actually there is a gimmick. I forgot, and a couple of props. But nothing else, just me, the microphone... Oh hang on I'm going to need a roadie for the P.A. system. But apart from that, it's simple. Just me, the microphone, the audience, the theatre, the P.A. system, the props, the... look, sorry, I've got to go, I've got loads of stuff to sort out...
A gifted comedy natural, Mack seems to get a kick from being silly. It's an attractive attitude, similar to Eric Morecambe's playfulness, that always wins through.
It's not a case of personality over substance, though, as even Mack's silliest puns and visual gags have clearly been extremely well thought-out. They're so polished they cannot fail to hit home, but delivered with a deft lightness of touch that catches you out.
He's just about to hit the telly big time, so see him now if you can. He's going to be a star. March 2001

You'll probably know Lee Mack from his work on ITV's "The Sketch Show" and Channel 4's stand-up show "Gas". Headlining the launch event of the 2003 York Comedy Festival he was faced with the challenge of following a strong line-up that had undoubtedly left the audience with high expectations for the top-of-the-bill act.
Fortunately Mack met the challenge head on and his down-to-earth, laid back, friendly manner endeared him to the audience instantly. This endearment early on was essential for his act to work as it relies more heavily than average on audience interaction.
This was both the best and worst thing about his set. While it was refreshing to see a different approach like this the venue, York grand opera house, lacked the intimate of a comedy club where this approach can really thrive, and the audience lacked the enthusiasm (and perhaps the alcohol levels) of a club crowd. Many of Mack's requests for "Any Questions?" were met with overlong pauses.
When someone plucked up the courage to take the bait however, Mack was razor sharp and his timing spot on and gave him the opportunities to slot in some great gags and routines from his collection.
His "I won't change my act, regardless" attitude, after discovering a 12 year old boy in the front row, was to be admired. The c**t's and f**k's continued to fly, as did a particularly near the knuckle (should that be near the elbow?) joke about fisting. From then on a little voice in the back of our minds kept saying "He can't say that in front of a 12 year old!", which added a great "edginess" to his performance.
An incomparable performer and comedian in every way, Lee is one of the most sought after and inventive live stand ups on the circuit, and winner of the Time Out Award for Best Live coemdy 2001. In Autumn 2002, he embarks on his eagerly anticipated first national tour, bringing his irresistible and reckless humour to fans across the country.
As well as his incredible success as a stand up, Lee is an accomplished sketch writer and performer, and took his sketch shows Lee Mack's Bits and Lee Mack's New Bits to the 2000 and 2001 Edinburgh Festivals, leading to a nomination for the coveted Perrier Award 2001.
In 2002 Lee starred in ITV1's British Comedy Award nominated The Sketch Show, which returns in Autumn 2002 for a second series. The first series won a coveted BAFTA for Best Comedy Programme, was nominated for a Golden Rose of Montreaux and a Banff Television Award, and led to Lee's nomination as Best Newcomer at the British Comedy Awards. The Sketch Show team also performed live at the Aspen Comedy Arts Festival 2002.

"Wickedly funny" - The Guardian
"I was knocked out by Lee Mack's talent" - Daily Express