Welcome to Karel Beer's "Laughing & Music Matters in Paris" website.
Standing up for comedy in Paris since 1995

We are proud to present some of the world's greatest stand-up comedians
and simply the best concert acts you can hear anywhere in the world.

it makes a lot of sense to get on to our email list by clicking here
---
Here are some of the comedy acts we have presented in Paris
over the past 21 years
---


Laughing Matters Presents
The King Of Post-Modern Nonsense
Tony Law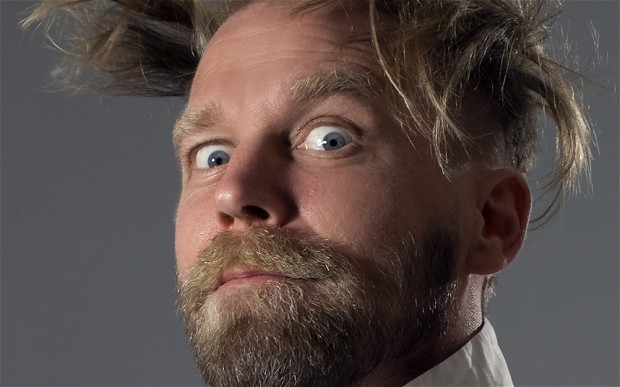 Tuesday 5th December 8-30pm
Absurdity For The Common People In


La Chapelle des Lombards
19 rue de Lappe Paris 11


metro Bastille
tickets 20€ - 15€ students

book here

"Takes post-modern stand-up to a dangerously funny new level"
The Guardian

"Chaos has rarely been so finely constructed and this much fun"
The Times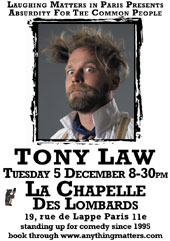 Tony is half Canadian and 50% Tinidadanian and 100% qualified for a show in Paris,
a city where he was once (briefly) a tour guide.
Not that he knew anything about either the French capital or it's culture.
The seat of his pants have had a sheen ever since despite spending most
of his professional time standing in front of a microphone keeping an audience in hysterics
thanks to his wacky acid casualty, off beat delivery.
"delivers the kind of deliciously demented stream of consciousness you might get if you put
Harry Hill and Sean Lock in a blender.
So Brilliant I saw him twice"
Bruce Desau Evening Standard

"playful, mischievous, mercurial and infinitely lively...
believe me: seldom, if ever, will you have laughed so much."
Mark Monahon The Telegraph

"this show is so brilliant I fear I'll run out of superlatives for it before I finish, but - in my case at least - the cheek-and-stomach ache induced by laughing at Law's comedy does make the line completely true, if rather recklessly misleading. But then, in going for the dangerous option I am only following Law's own lead."
Anna Lowman Comedy.co.uk

"Tony Law is the Sherpa of stand-ups,
leads an expedition to undiscovered alpine uplands of laughter"
so says Stewart Lee (and he should know)

likes dogs
Law in London with KJB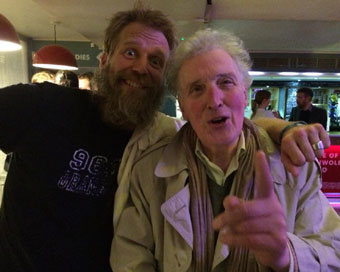 photo Nina Conti
---
Karel Beer's Informer Times CD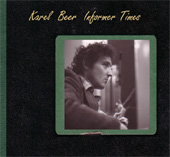 ---
Website maintained and updated by Karel (The Dawg ) Beer