Dan Bern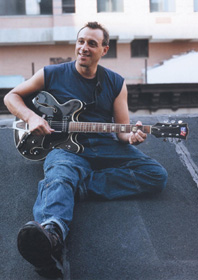 Dan Bern - New American Language cookingvinyl.com



New American Language is Dan's 5th album and first official retail release since the previous Ani DiFranco-produced "Fifty Eggs" on Sony in 1998.
As superb as those first four albums frequently were, Dan's debut album for Cooking Vinyl is also the first to really harness all the qualities - from both a compositional and performance standpoint - that make his music so vital. New American Language captures the artist in full-band mode, leading a propulsive five-piece through his finest set of songs yet. The combo injects a manic energy into the songs that makes their unique take on Americana come alive.
The songs careen from one coast to the other, like the van he coaxes to each festival and show, finding new angles, new niches, and new modes of expression along the way. Not only is it impossible to find a box, it is pretty difficult to find a country that can corral the brilliance of Dan Bern, but New American Language does.
Stretching back and forth across the nation as if it were a canvas, he uses the full spectrum of America's soil to paint a lushly detailed, often heartbreaking portrait, taking in the highly commercialised Broadway of the "Thanksgiving Day Parade" with three-dimensional empathy, trying to hide out from the encroachments of life in the heartland, heading west to the burnt and broken landscapes of New Mexico, and hitting the "Alaska Highway," where he runs into Leonardo DiCaprio and Eminem, Britney Spears and Keith Richards. He crosses genre lines from tender folk-rock to full-on sonic outbursts to the rootsy bluegrass of "Honeydoo!" and he delves into emotional terrain, whether that of the Japanese protagonist of "Rice" or the Mafia or rednecks, that few songwriters have the ability let alone the temerity to tap with such understanding. New American Language imbues life among the earth-toned cathedrals of "Toledo" (Spain) and "a Budweiser, Budgetel, Bukowski kind of night" with the same tone of hope and beautifully resolved sense of acceptance. This is one language that everyone owes it to themselves to become fluent in.
The album is co-produced by Chuck Plotkin who has produced every Springsteen record since "Darkness on the Edge of Town".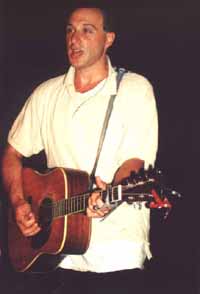 ---
Bern's Biog
Bern's father was a concert pianist who emigrated from Lithuania to Palentine in 1939, a Jew who was one step ahead of the Nazis. Later he met and married Bern's mother, a German Jew, a singer and poet who had also escaped the ravages of World War II. In the late 1950s they emigrated again and settled in Mt. Vernon, Iowa, where Bern was reared, the cello-playing, baseball-loving progeny of two Old World artists in the American heartland. In time Bern found the guitar, and his way to the West Coast, whre he got his footing in the neo-folk music scene in Los Angeles in the early 1990s. He put out his first album in 1997. New American Language is his fifth. In between, he's amassed a strong underground following, built in part on his prodigious output of intellectual and topical songs. He's frequently been compared to Bob Dylan, becuase like the young Dylan, he's funny and smart and has a regally Semitic nose
Like Lenny Bruce, Bern can also be joyously obsene, which shouldn't be obscene at all, as well as tender and even devout. "God Said No," a wistful song from his new album, continues a device he's fond of: Bern's persona interrogates God and indulges in a little speculative time travel. It sports a sensibility that seems to derive as much from Yiddish folk tales as Douglas Adams's "A Hitchhiker's Guide to The Galaxy."
"There's a long history of that kind of thing," Bern said. "I recall reading things where a man is talking to God--the Bible's full of that. I kind of feel the same way about that as I do about songwriting. People say, 'Why do you write songs?' and I say, 'Why did you stop?' You know, little kids make up songs, it's a natural thing...and then one day they stop, some of them."
"They told us in high school that writers write, and when they don't write they read," he said. "The writers that I love, some of them are songwriters, but a lot of them are story writers. The best of the lot, at least my favorite ones, are not writers that write in florid strokes so muchas very vivid ones, like James Thurber and Ring Lardner, Charles Bukowski, John Fante, Hemingway. They're not writers who are so in love with their own words; the picture's what's important.
"When I was making this record, New American Language, it was like, 'Let's be in service to the song--what do the songs want, what does the story want, what do the themes want?' It's hard to get out of your own way. When people are trying to master their craft, it's more about learning to get out of the way."
Excerpt from Robert Meyerowitz article in the Anchorage Press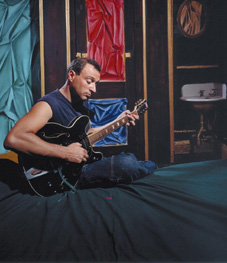 ---
Dan Bern..."Jerusalem"
By Miller Schwab
Rhythm and News Magazine
In the late 1960s, any artist with a guitar and poetry for lyrics was hailed as a new Bob Dylan. A guitar is a minstrel's weapon against the turmoil society feels it cannot fully define. Poetry reflected from a voice experiencing the same emotions perks up the listener's ears and demands to be heard.
The music industry has created niches and categories into which all artists are to be placed. This process makes it easier to market voices and styles as a commodity, with money being the driving force. A voice with something valuable to say is thought of much like a wild stallion. Talent and raw energy, as a matter of course, must suffer the necessary taming. Such a voice laden with talent and raw energy has come to our doorsteps filled with modern political poetry and delivered in a dizzying combination of folk/pop/punk/talking blues/rock styles. His name is Dan Bern and the box has yet to be conceived that can categorize his music.
The influences on Dan Bern are immediately recognizable as Guthrie / Dylan / Springsteen, in that order. Many reviewers will rely upon these connections for comparison and will stand, without commitment, asking you, the listener, to make a choice. This obviousness is not a necessary sidebar to any artist willing to stand naked center stage with a guitar. I will not ask you, the reader, to make such a judgment, but I will instead inform you that Dan Bern is the real deal.
In the fall of 1996, Dan Bern toured a relentless 60,000 miles with an altogether too short six-song CD under his arm entitled "Dog Boy Van". The intensity of such modern-day renderings of what pure poetry represents can be found in this collection of music. A voice for the ages has been discovered and we must choose to accept the vision, or discard it.
From the six song CD, "Oklahoma" conveys the emotion-packed story of the April 19, 1995 Oklahoma City bombing. "Kurt", a modern day interpretation of how youth chooses to hold their rock idols on the same shelf as any national, historical, or religious leader, addresses the death of Kurt Cobain.
"Dog Boy Van" will have the "politically correct" police glued to the airwaves and listening stations. The six song CD (available by mail, 888-222-BERN) contains five songs that test the boundaries of rock and roll as a medium that continues to express truth. None of those five are scheduled to be released on his debut album.
Bern's, "Jerusalem" will open the airwaves to his unique gifts. A song filled with personal enlightenment and poetic fanfare, wherein he claims himself to be "the messiah". The music world has never been in more need of a messiah.
In "Hannibal," we hear the opening riff of a song draped in talkin' blues reverie. The opening line, which by rock standards sets the tone for the music and its challenges, "Let the niggers burn their nigger town," continues on to present the possibility that if the L.A. riots had occurred anywhere near Beverly Hills, the police would have opened fire. It's a tour-de-force song which requires an open mind; the open mind that rock and roll was created to challenge. A song which rock and roll and its corporate image are terrified to present, if it doesn't come from the right kind of act.
His debut album "Dan Bern" (Sony/WORK Group), was produced by Chuck Plotkin (Springsteen / Dylan) and is scheduled for release this March. This eleven-song offering includes both solo performances and full band workings. "Marilyn" conjures up the possibility of what might have happened had Marilyn Monroe married Henry Miller, instead of Arthur Miller. The storyline depicts the possibility that Marilyn might have had more fun, that she might be still alive.
We are desperate for heroes to help us associate with our own shortcomings. We require our heroes to be as human as possible. We no longer can find solace in the manufactured fanfare sold to us like milk and bread. We are searching for something that we can sink our teeth into and enjoy. An artist bearing such substantive talent as Dan Bern comes along only a few times in a lifetime.
Breaking down the walls of demographic-filled studies, Dan Bern, alone on a stage with a guitar, forces the image-conscious to run for cover. He is singing from a place only a true artist will attempt to travel -- inside the heart where there is only room for what is real. Pure poetry cannot be denied recognition.
It is now your duty to chance listening to someone who will make you think instead of dance, to allow your mind to find words that will challenge your world. You can purchase the challenge, or hide behind music the establishment says is okay for you to hear. You can ride the wild stallion into the void, or take the buggy ride down the safe road. Rock history demands you accept the wild stallion. Welcome to the real world.
---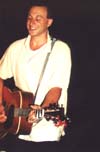 Dan Bern
The Bottom Line, New York, July 31, 1998
A Dan Bern show begs many questions. Is this the same guy who critics are overzealously proclaiming the newest folk "legend"? This man who plays the guitar like he just picked it up yesterday? This man who writes farcical songs about pretending to be a painter so he can con women into posing nude for him? Who affects an Okie accent that sounds like a cross between Woody Guthrie and Pee-Wee Herman? This is the next Bob Dylan?Well, maybe not. But who wants another Dylan? The fact of the matter is, folk music moves like an iceberg. Still, like an iceberg, when it does move it's a significant event. Well, thanks to Dan Bern, after thirty years and a lot of preciously dull festivals, folk is finally relevant again. Bern is a song-writing machine, so close to the curve of current events that he sometimes comes across more as a singing political columnist than a poet.At the Bottom Line, he performed a song called "The Day They Found a Cure for AIDS," and a truly chilling song about schoolyard shootings a la Kip Kinkel. In "Most American Men," Bern wonders if he needs to take Viagra, even though his organs are all in order, just to stay competitive. As a purveyor of his craft, Bern is fearlessly ambitious, weaving plot lines and sundry themes into multi-layered song narratives. Sometimes he uses two or three-character dialogues to propel a song's story line. In "Gamblin' With My Love," he sings of writing a play about Pete Rose and ex-baseball commissioner Bart Giamatti. The two are discussing Rose's gambling infractions in a hotel room. Bern jumps back and forth between portraying himself trying to write the play and narrating the play itself. He purposely conflates the two so that by the time he sings the chorus, "Are you Gambling With My Love," the words have come to apply (albeit humorously) to both situations.Bern couples his songwriting skills with an ability to lock into an audience and make them hang on his every word. And, as with his approach to songwriting, he doesn't hesitate to think large. When fans at the show requested a song about Bruce Springsteen and "The Day They Found a Cure For AIDS," Bern decided to play "Cure for AIDS," as Bruce Springsteen, using three distinct impersonations to represent the man at different points in his career, and spontaneously revising the lyrics to mimic the Boss's New Jersey dialect. The song culminated with Bern as a mid-Eighties Bruce bellowing out the bridge to the song (Bern claimed that was the only time Springsteen had musical bridges in his songs, necessitating that particular impersonation). Ultimately, Bern finished the song as himself -- one part bullshitter, two parts provocateur, singing bold and intelligent songs that folk hasn't seen since, well, you know....
JAMIE COWPERTHWAIT - ROLLING STONE
---
MOJO magazine
WHADDYA MEAN YOU'VE NEVER HEARD OF........ Dan Bern.... Nervy Troubadour
Dan Bern kicked off his 1997 self-titled Sony debut by revealing himself as the Messiah, then pondered the consequences if Marilyn Monroe had married Henry, rather than Arthur, Miller. His Ani DiFranco-produced follow-up, 50 Eggs, opened with the declaration 'I got big balls, big old balls' and solved an evolutionary mystery in No Missing Link, a song he delivered live with the rousing singalong 'aliens came and fucked the monkey'.
If these provocations, and Bern's other unholy imaginings about God and the celebrity firmament, succeeded in winning the attention of audiences and critics, they also obscured what an insightful and emotionally potent songwriter the American troubadour was. That ought to change with the release of New American Language (Messenger) a brilliant set in which Bern shows little need to stomp his boots on the coffee-house table.
'I was much less concerned with me and much more with the lens I was looking through', says Bern, 'It's a lot more comfortable place to come form - it's just about the songs.'
Not that Bern has become the proverbial sensitive singer-songwriter. While his early records were essentially solo affairs, New American Language showcases a raucous band that now joins him on the road. And Bern proves himself as fearless and subversively funny as ever. In God Said No, perhaps his best song to date, the Deity dismisses Bern's requests to go back in time and save Kurt Cobain and Jesus and take down Hitler ('If you really found him' God says of Cobain, 'you would only ask him if he could help you get a deal').
'I mean, otherwise, why bother writing?' Bern says of his ability to pick subjects that would scare off most songwriters. 'It's a place where you don't have to be squeamish. There's nobody telling you, 'That's inappropriate'. If you listen to what's inside and let that out, that seems like the thing to trust.'
Essential purchase: Dan Bern (Sony, 1977) Jeffrey Pepper Rodgers