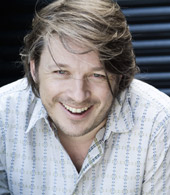 Wednesday 25 April 2007
turns out to be a national holiday in italy and there is also a big football match
hey what's new?
Comedian and writer, in 1990s Richard worked with Stewart Lee on such shows as "Fist of Fun"
and "This Morning With Richard Not Judy".
Also wrote the Sky 1 series "Time Gentlemen Please" with Al Murray the Pub Landlord.
Apart from touring his "Ménage à Un" show the legnth and breadth of les Iles Britanniques
he appeared on such radio shows as "Banter" and "That Was Then, This Is Now".

"Fast approaching his fortie's ridiculously funny...
enjoys performing his material as much as his audience enjoys listening to it. " The Metro
"Improves with age." The List
"The stuff of great comedy." The Guardian
"On searing form... a quality act... sure of his material and not afraid to show it" BroadwayBaby

"Is doing gigs in the West Country any more special because you're from the area?" BBC Somerset

"Inventive Original Funny." Chortle