in 2004
laughing and music mattered in paris & milano
the year in review
---
january 13
Danny Bhoy
tries to defigure out Daniel Kitson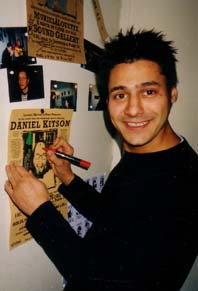 bhoy meets girl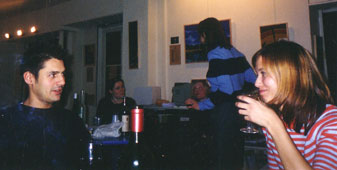 ---
january 27
Daniel Kitson
he's got the balls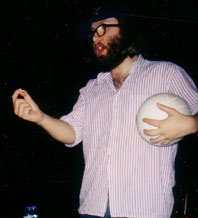 ca pass ou ca cass
thank you steve you can have your ball back now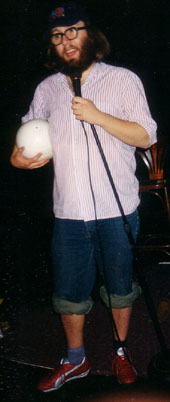 baby it's cold outside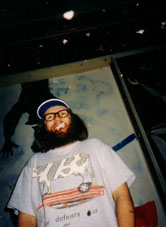 Heather, KJB, Fran, Dan & Chrys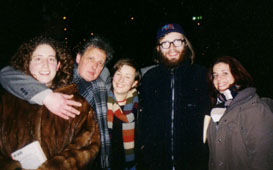 ---
february 3
Joe Henry
Steve Tallis, Joe, Jay Bellerose, Barbara Condos

---
february 8
Tati Mouzo
renews & restocks the never ending exposition
rene miller's got the picture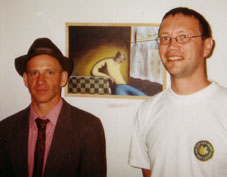 ---
february 10
Greg Proops
age before beauties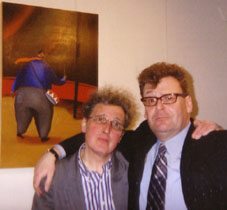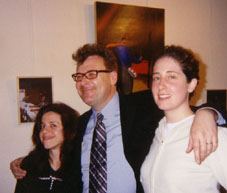 ---
february 16
Erin McKeown & Rene Miller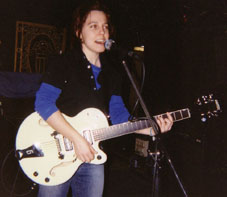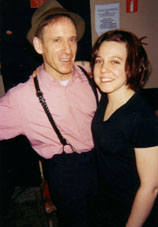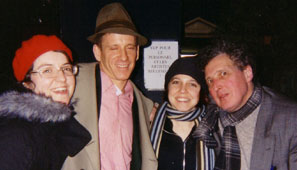 ---
february 23
Glenn Wool
gets a little Tati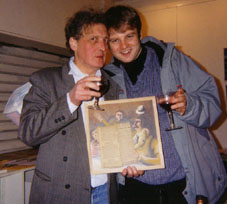 I think this wine's corked !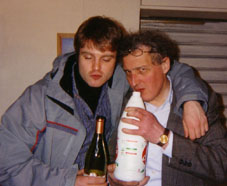 ---
march 3
Ardal O'Hanlon
goes to extreme lengths to extract a drink and a sandwich from James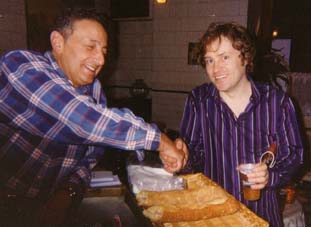 are you sure we bought the right one ?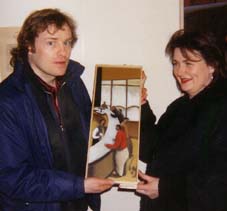 ardal o'helmet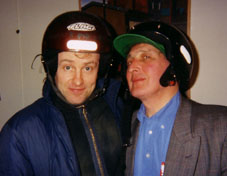 ---
march 15

Janis Ian
Olive, Heather, Amber & co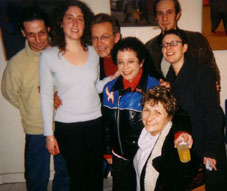 Janis & James (it's a long story)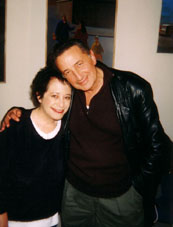 ---
march 23
Jennifer Terran
put's the wind up Corey Harris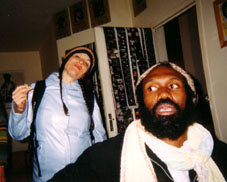 something's kicking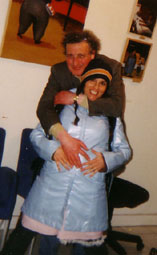 Olive has one already, it's at home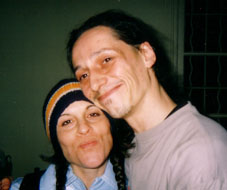 congratulations Jennifer
Tati Mouzo
has one too - a high maintenance portable model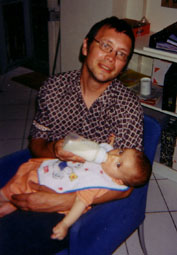 ---
march 24
Corey Harris
helmets and dreads don't mix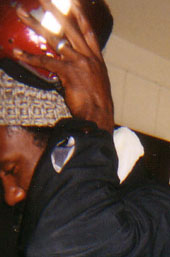 neither does champagne and vittel in la Grappe d'Orgeuil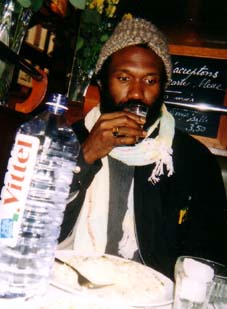 jamil (juju chil') williams, andy j forest & corey get ready to ride the magic bus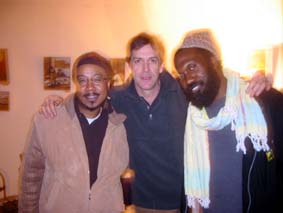 ---
march 30
Dylan Moran
mutual admiration
black books meets Leviathan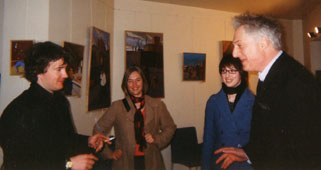 John Greaves is not impressed,
unlike Pip Pyle, standing next to Peter Blegvad
could it be musical differences ?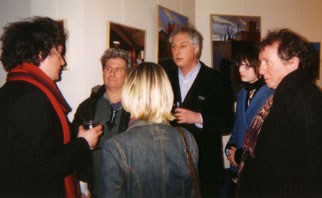 meanwhile saxophonist elton dean sends an emailto old soul master ronnie jones in milan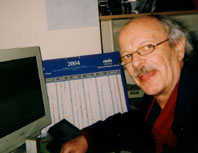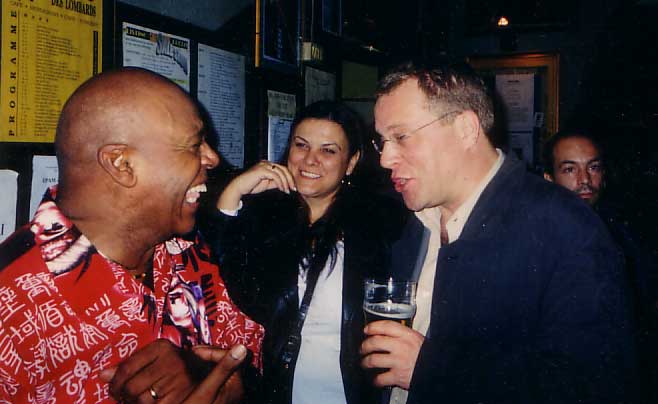 that's ronnie in the red shirt with mike wilmot in 2003
---
april 6
Dwight Slade
living dangerously in paris and Milano
he brought the family for protection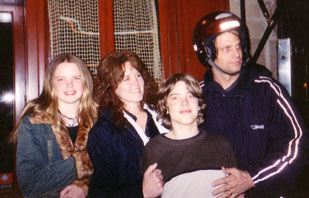 karel brought the wheels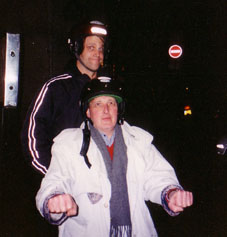 Paul Bandey bought the CD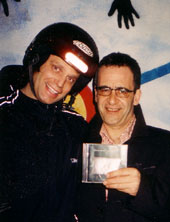 ---
april 7
Paul Tiernan
sits this one out in la Java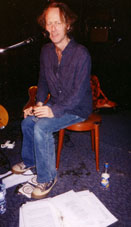 Paul, JP, Renaud Pion & freinds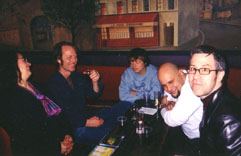 stalking the dog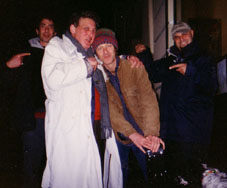 Paul slayed Dwight, Dwight bought a CD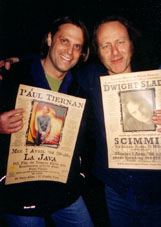 ---
april 18
Terry & Bukka Allen
if only my son could keep his hands on his passport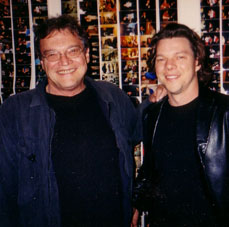 as well as I can keep mine off the promoter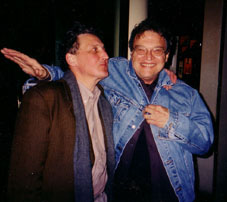 ---
april 27
Caitlin Cary
Bobby Memphis, Caitlin & Karel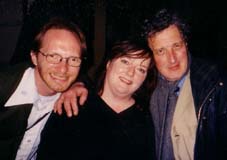 Comedian Tom Rhodes & Catlin keep their chins up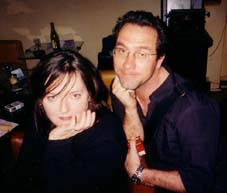 Tom keeps up appearances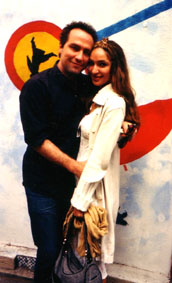 ---
may 11
Julia Morris
heather, sal bernardi & julia
like the van the crutch is rented


may 18
we missed the flight to Milano & by the time we got there a week later
there had been a change in the weather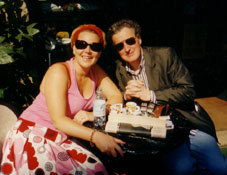 and her entourage !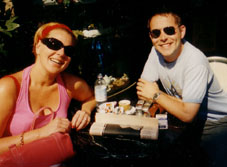 ---
may 30
Clive Gregson
with Clare Muldaur & Olivier Manchon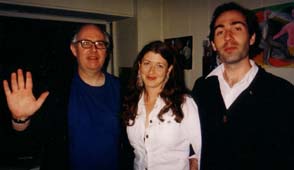 ---
june 8
Simon Munnery
in town & the audience tonight
melanie horsnell, josh rouse, tim keegan & simon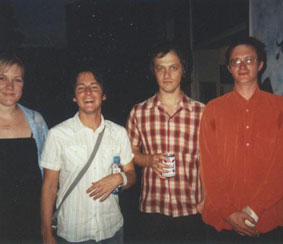 mini munnery gets ready for a knees up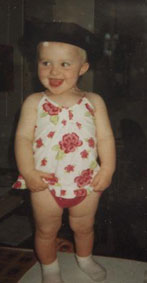 didn't we take this picture in november ?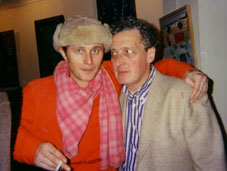 ---
june 15
Josh Rouse
delphine annothe's not as naïve as she looks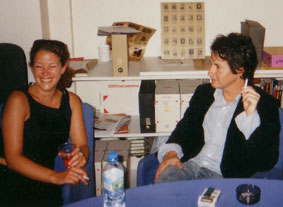 keeping the audience satisfied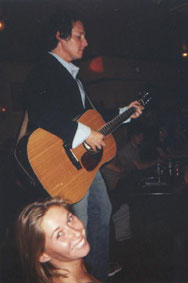 ---
june 20
Neal Casal
& friends
sal bernardi, neal casal, michel pamplune, melanie horsnell & gary louris
ken stringfellow had duties elsewhere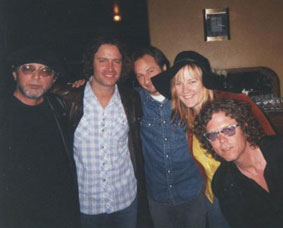 same sandwich different filling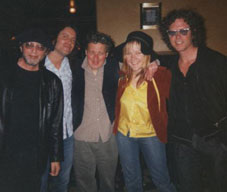 neil & melanie in the gallery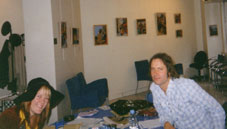 ---
june 28
Darden Smith
tries to figure out how he ended up getting an office job ?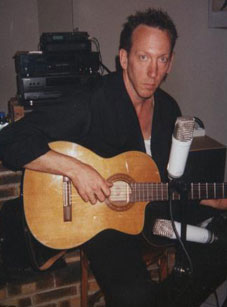 june 29
we couldn't get served in the hotel Raphael but had better luck in Pigalle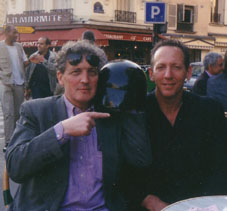 kjb, darden, randy weeks & ramsey midwood
prepare to help steve winwood keep on running in la Cigale
after sitting in at the Gallery with darden the previous night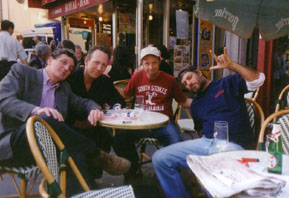 ---
july 4
Eddie Brill
a night of independence in paris
eddie holds court in the gallery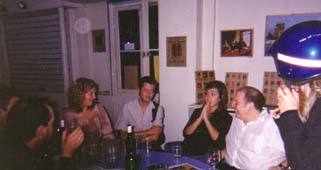 new york paris hawaii and a crown to boot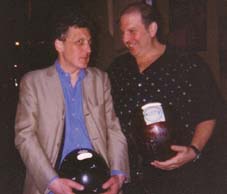 ---
july 7
Erin McKeown & Ken Emerson
claude langlois & ken work out how to play those things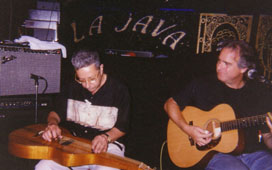 ---
july 12
Jolie Holland
sorry no shots
---
august 19
Greg Proops
and the one armed bandit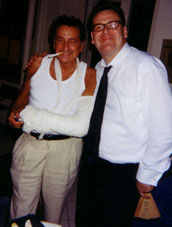 skull duggery in the gallery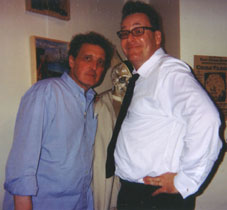 ---
august 29
Paul Kelly
paul and dan kelly pretending things are acoustic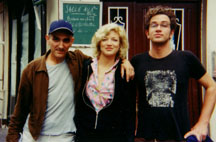 ---
august 30
Chris Whitley
has anyone seen my rider ?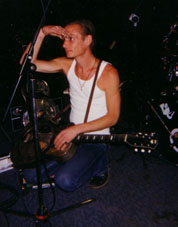 echos of the velvet underground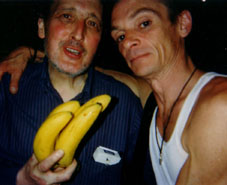 ---
september 7
Jimeoin
has a meat in his rider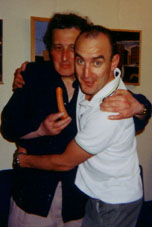 emmeline, jim & ? (answers please on psotcard)


lot of sheilas in paris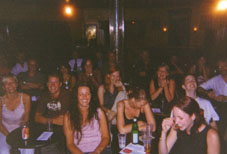 september 9
and in milano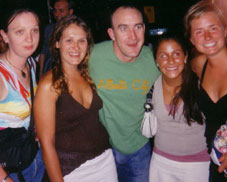 one for the road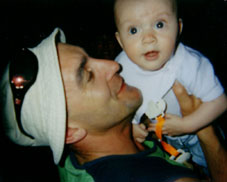 maybe they left one behind ?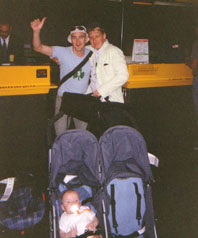 ---
september 21
Phil Kay
practices his patented life saving technique
prior to copulating in a gondola in venice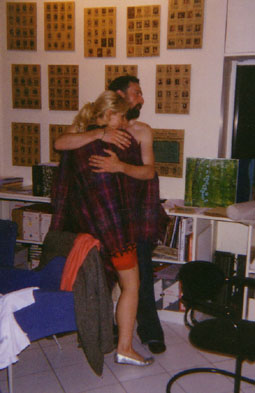 september 23
valentina, marco & phil in milano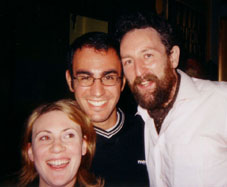 ---
september 24
Jack Tempchin
a peaceful easy evening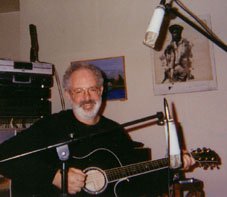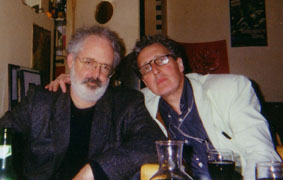 ---
---
october 5
Jesse Malin & Tommy Stinson
olive & tommy (birthday boy) stinson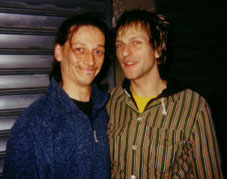 they arrived late and jesse left early
---
october 7
Isabelle Galhaut
exposition millefiori
the artist in search of inspiration


trying not to lose her tempera whilst finding her way out of the maïs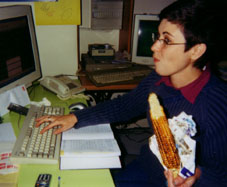 ---
october 9
Rex Foster & Kerry Getz
rex promised to give kerry a ring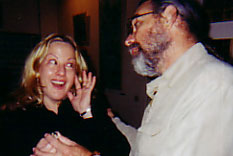 kerry gives rex the finger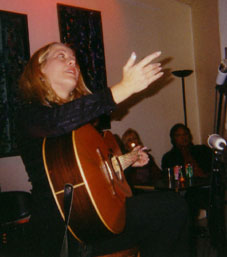 rex thinks maybe a necklace would be more fitting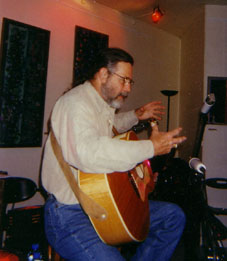 rex fosters kerry & kerry gets karel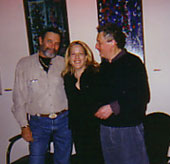 ---
october 12
Nick Harper & Melanie Horsnell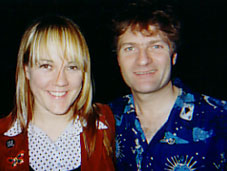 melanie, kjb & kerry


sal bernardi's back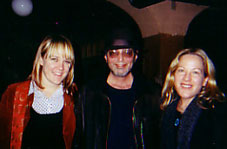 ---
october 15
Andy White & Allison Russell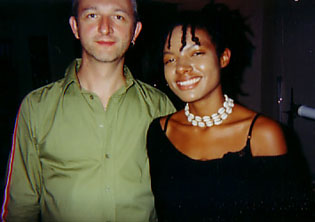 don't let an old haggis come between us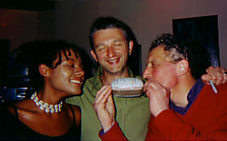 ---
october 17
John Oliver & Russell Howard
munching in milano with margrethe after a noisy encounter with the locals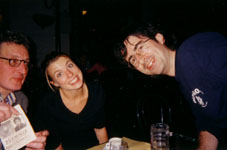 john promises to buy russell a watch to wear on that wrist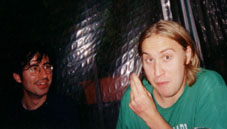 Paris october 18
two russells an oliver and an andy
within 24 hours they will have all done shows in the sound gallery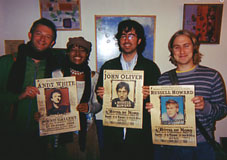 ---
october 19
Jude
we see his back in la Java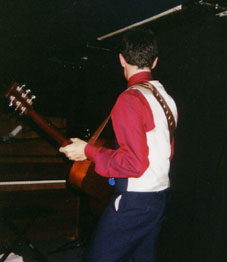 mixing business with pleasure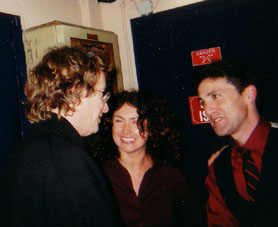 ---
october 31
Carey Marx
tries to get on a roll (or two)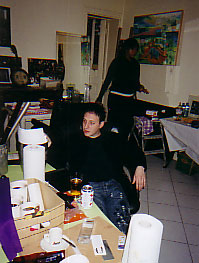 marx a few points with kim richey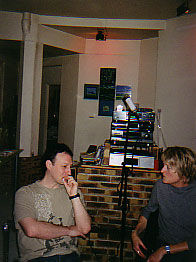 ---
november 1
Kim Richey
tim keegan keeps harping on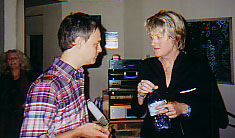 the keys to hypnotise the highway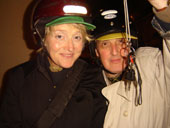 ---
november 16
Boo Hewerdine & Al Rose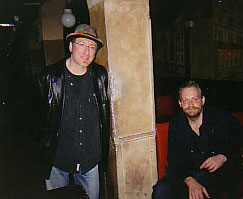 could this be hair that i'm feeling?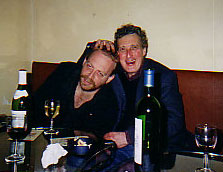 ---
november 21
Reginald D Hunter
the hunter gets his game in milano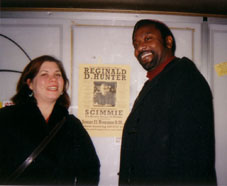 david (signor scimmie) israel & reg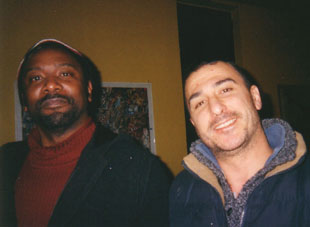 november 22
paris
darden smith & reginald d. hunter compare stripes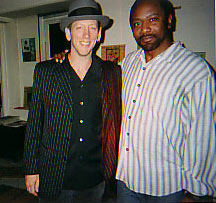 those posters are everywhere we take a photo
next stop thanksgiving in Atlanta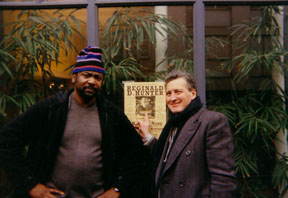 ---
november 28
Arthur Smith
& friends
he's brian to the close ones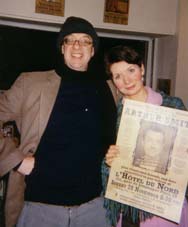 these are the kind of brithday cards he really likes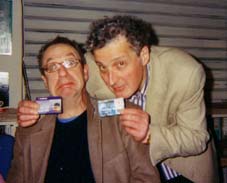 ---
november 30
Willard Grant Conspiracy
could this be more hair that i'm feeling ?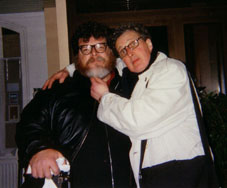 ---
december 8
Hayden & Toby Burke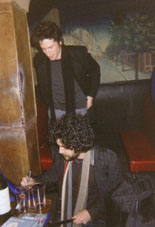 how to encourage the merchandising staff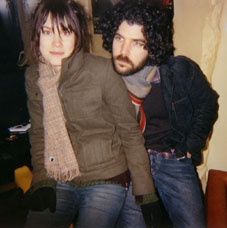 leslie charbon see no Hayden hear no mix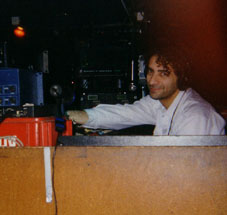 that's a lot of truck for one small piano, just as well he used it !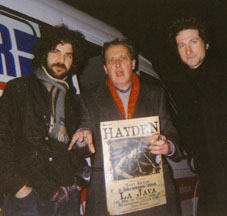 ---
december 15
Ukulele Club de Paris
aloha noel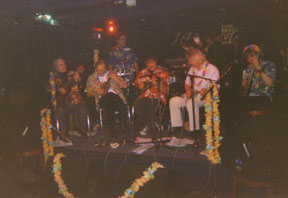 jean-hughes bringing up the rear - mixing blind