Nick Harper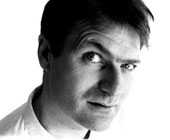 new album Blood Songs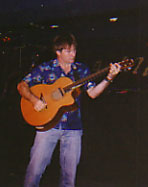 Nick Harper is a highly accomplished guitarist to whom the term virtuoso truly belongs.
Yet his guitar playing is only a part of his skill. As well as a distinctive and soulful voice, Nick is a rare kind of artist, one who reaffirms faith in the art of original songwriting.

Nick's debut recording was first heard in 1983 when he appeared on his father's 'Whatever Happened To Jugula' album – a collaboration between Roy Harper and Jimmy Page.
Nick went on tour with his father and recorded regularly with him thereafter. Nick's energy and talent entranced Roy's fans and it was no surprise when he began touring and recording in his own right. Nick's first solo release was released in 1994; an E.P entitled 'Light At The End of The Kennel'. It captured Nick at a raw and youthful stage yet contains songs mature enough to still be mainstays of the live set. Then followed 'Seed' in 1995 - his first album, and The Independent described him as 'Hugely talented'.

The next stage of his career began when Nick supported Squeeze front man and songwriter Glenn Tilbrook. Tilbrook was so impressed that he offered Nick a job playing with Squeeze and promptly signed Nick to his own label, Quixotic Records. Following tours in the UK, USA and Japan, Nick recorded his second album 'Smithereens' with Tilbrook as producer. It was this work and his subsequent 40 date solo tour including devastating appearances in New York and Glastonbury that confirmed Nick Harper as a formidable talent in his own right.

His third album, 'Harperspace', was released to great critical acclaim - passionate, energetic and positively inspired. This is the album that confirmed his position at the forefront of a new generation of British Acoustic Performers.
'Double Life', which came out in May, is Nick's first live album and as well as outstanding performances of songs from all his previous releases, also includes a few brand new as yet unrecorded tracks. He is one of the select few artists working in the UK who are simultaneously steeped in tradition and yet completely contemporary - 'Guitar Man (Whole Lotta Love Mix)', is a rip roaring marriage of 'Guitar Man' as recorded by Elvis Presley and 'Whole Lotta Love' by Led Zeppelin. Or 'Out Of It' which starts with two verses of 'Butcher' by Killing Joke and goes on to include some Gang of Four and even a fair few lungfuls of Prodigy's 'Breathe'.

Nick has developed a reputation for creating great audience rapport. While his songs can be intense and emotionally charged, in concert Nick is relaxed, spontaneous and always enthralling.
---