Enfin de retour et en Harris in Paris




Corey Harris



Jeudi 18 Avril 2019


le bon temps va rouler dans


La Chapelle


19, rue de Lappe Paris 11




"The class of the new acoustic blues singers,"
Village Voice

"A throwback to a lost era… has the same majesty, stark beauty
and brutal honesty as the music's inventors and innovators,"
Blues Revue

"Masterful...a remarkable talent...potent... effortless...magnificent
he embodies and transcends tradition"
Chicago Tribune

"Combines stunning acoustic guitar work with deeply resonant vocals"
Austin Statesman

"Sings in a voice pebbled with hundred-year-old gravel and haunted by ghosts fromancient crossroads....an authentic voice and an eclectic vision"
San Francisco Bay Guardian

"The authentic article; the real keeper of the Delta flame"
Jazz Times

"Brilliant readings of blues standards, seamlessly fitting new compositions, lovely guitar work, and amazing vocals...plain astonishing....
Clean, fast picking sung and played with a sweetness that brings to mind Mississippi John Hurt. Harris is a steady and consistent presence"
Blues Access



http://www.coreyharrisband.com




---

in concert from Virginia out of New Orleans & Colorado
Corey Harris

Wednesday 25 May 2005
La Java

PARIS, 21 mai 2005 (AFP) - Corey Harris à la Java le 25 - Le guitariste et chanteur américain Corey Harris, troubadour-musicien, à la fois serviteur d'un Mississipi blues authentique et influencé par d'autres styles de musiques métisses, sera en concert à Paris (La Java) le 25 mai. Sur son nouvel album qui vient de paraître, "Daily Bread" (Rounder Records), il s'ouvre encore plus largement qu'à l'accoutumée au reggae. A l'instar de Olu Dara, autre musicien aventurier et voyageur, sa musique navigue entre blues, calypso, reggae, dub, country, rythm'n blues, folk. Corey Harris est le personnage principal du film de Martin Scorsese, "From Mali to Mississipi", paru l'an dernier, où il jouait son propre rôle, celui d'un musicien afro-américain en quête de ses racines.

---

an impromptu private concert
wed 24 mars 2004
La Java

jamil williams - andy j forest - corey
25th march in the sound gallery after getting off the magic bus and on each other
monster late night private jam

---

In Concert Solo avec son drummer so not quite solo
at
La Java
105, rue du Faubourg du Temple Paris 10


Sunday 20 May 2001

Opening Up
Rene Miller & The Wedding Band
Hailed as one of the saviours of the acoustic blues tradition. "The class of the new acoustic blues singers," shouted the Village Voice. "A throwback to a lost era," raved Blues Revue.
Indeed, Harris, who in just six short years has gone from busking on the streets of New Orleans to sharing stages with B.B. King, Buddy Guy, Natalie Merchant, The Dave Matthews Band and Billy Bragg, has only one constant in his music, and that is evolution.
Besides blues, Harris loves all styles of music and rejects the notion that he is the living incarnation of the old blues masters. "I like to live in the here and now and look forward," he maintains. Harris uses his acoustic blues as a blasting-off point, making up-to-date, foot-stompingly original music that seemingly crosses all boundaries.
---
COREY HARRIS
&
HENRY BUTLER
1950-2018

Jeudi 12 Octobre 2000

Décidément Corey a élu domicile à l'HdN - 3 passages en moins de 6 mois font preuve qu'il se sent bien chez lui au bord du Canal.
Cette fois il fera escale avec son ami Nouvelle Orléanais le très grand pianiste et chanteur Henry Butler.
Henry est reconnu comme le digne héritier des Professor Longhair et James Booker
et c'est en sa compagnie que Corey a enregistré son/leur dernier CD
"vu-du menz". Comme Corey il adore le blues, le jazz et le boogie.
Donc préparez vous pour une unique soirée, lorsqu'ils cuisinent un véritable gumbo festin musical,
concocté d'un savoureux mélange de leurs racines et nos fines herbes !
Links.: www.alligator.com & ww.coreyharrismusic.com
---
Tues 1st & Wed 2nd August 2000
Corey Harris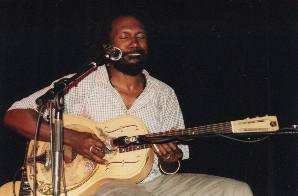 Read Mike Zwerin's piece in the Herald tribune

When people first hear 28-year-old acoustic guitarist/vocalist COREY HARRIS, they often think they are listening to one of the old blues masters. A native of Denver, Colorado, Harris fell in love with music at an early age, and made his own music with a toy guitar he received at age three. He learned to sing and play by ear, When his mother turned him on to Lightnin' Hopkins at age 12 (the same year he got his first real guitar), Corey found his true musical calling.
After attending Bates College in Maine, Harris, along with his newly acquired National steel guitar, moved to Cameroon in West Africa in 1991. While there, Harris' love for acoustic blues continued to grow, as did his understanding of the importance of the indigenous juju music ("the place where blues began," according to Harris).
After returning to the United States, Harris moved to the rural Louisiana town of Napoleonville and began teaching French and English, all the while continuing to play his blues and refine his craft moonlighting as a street musician in nearby New Orleans. He quickly devoted his life to music full time.
In the past 2 years, Corey has played with B.B. King, Buddy Guy, Koko Taylor, and Billy Bragg, just to name a few. Currently living in Charlottesville, Virginia, he continues to draw upon his myriad of influences to deliver one of the most unique, yet timeless sounds around.
---
Last Minute Hasty But Great and Tasty !
Friday 12th May 2000


Corey Harris and Jamal Millner
Clearly Corey can't get enough of playing at the Hotel du Nord, he's been here every year since 1999
and we can't get enough of this tremendous singer-songwriter hailed as one of the saviors
of the acoustic blues tradition.
His visionary 1997album, Fish Ain't Bitin', solidified his reputation as a ground breaking acoustic bluesman.
"The class of the new acoustic blues singers," shouted the Village Voice.
"A throwback to a lost era," raved Blues Revue.
But that's not the way Harris sees it. "There's blues in me," says Harris, "but I'm not a bluesman. I just live to be a songwriter, I don't limit myself to playing just one type of thing. I try to put variety into what I do."
In town to play a sold out Olympia on the 10th with Tracy Chapman, for those who want to know more about him on a face to face level get down the "The Bottleneck" restaurant where he'll be settling in for a
Question & answer session on thursday 10th at 8-30 pm. it's at 31 bvd Malesherbes Paris 8.
---
27 juillet 1998
&
4 juillet 1999
"Blues on the Fourth of July"
Corey Harris and 5 X 5
Jamal Millner (guit.) et Harry Dennis (perc.)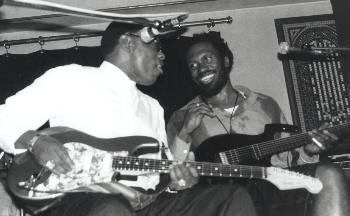 Joe Louis Walker straps on Jamal's Strat



Nouveau CD
"Greens From The Garden"
There will minor flag waving and major "Blues on the 4th of July"
when Corey Harris returns accompanied by Jamal Millner & Harry Dennis.
Their show last July was one of the summer of 98's most memorable non-sporting events.
They are really looking forward to coming back to the Hôtel du Nord
and will stopping off en-route to the Montreux Festival.
alligator.com & coreyharrismusic.com