Laughing Matters Presents Stand-Up Comedy
With The Columnist Of The Year
Shazia Mirza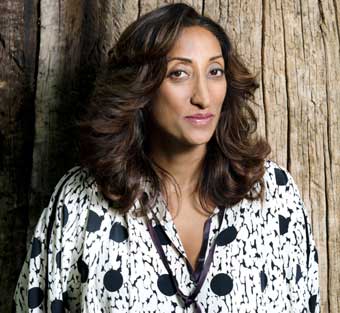 The Kardashians Made Me Do It
In Paris On
Wednesday 24th February 2016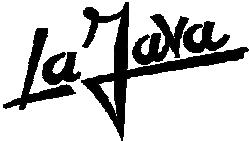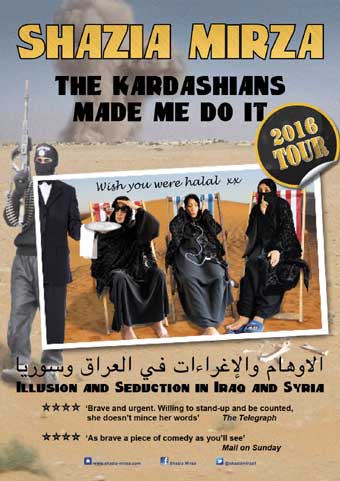 The Kardashians Made Me Do It is inspired by three girls who left
Bethnal Green in 2015 to join ISIS, and an unrelated radio piece Shazia
contributed to the BBC which subsequently received a record number
of complaints. The show tells of the confusion it caused as
she looks into the nature of offence, the dangers of politically
correct liberalism versus the sinister and terrifying intrusion
of ISIS into the lives of young British Asian women and the
phenomenon of jihadi brides.
"My new show is about ISIS and Jihadi brides and why I
think young girls in Britain, are running away to join ISIS.
It was inspired by the three girls from Bethnal Green who
ran off to Join ISIS in February this year. I talk about this
in the context of my own upbringing, my life was exactly the
same as these girls growing up, but I rebelled in the normal
way - I dyed my hair pink and took drugs. I didn't join a
terrorist organization.
This is the most political material I've ever done. In dealing
with this subject matter I have had to be very truthful, and
that's OK, because the truth is always funny.
The show is not something I particularly wanted to do
either, but I felt I had to, and I knew exactly what I thought
and felt about it. But one thing I felt for sure, is that if I'm
going to do this show I have to really go for it and say it
exactly how it is, or I don't do it at all."
The revered, applauded, loved and reviled comedian and
columnist has appeared on various TV and radio shows
including Have I Got News For You (BBC), F*** Off, I'm a
Hairy Woman (BBC) for which she spent seven months in the
service of hirsutism, NBC's Last Comic Standing, Beautiful
People (BBC2), The World Stands Up (Paramount Comedy),
and a regular slot on Radio 2's Vanessa Feltz Show and
Radio 4's The Now Show. She has performed internationally
from Texas to Kosovo and has been a regular contributor to
The Financial Times, The Daily Mail and wrote a weekly
column in The Guardian entitled 'Dairy of a Disappointing
Daughter'.
In 2008 she was listed in The Observer as one of the 50
funniest acts in British comedy, won 'Columnist of the
Year' at the prestigious PPA Awards for her fortnightly
column in The New Statesman and won The GG2 Young
Achiever of the Year Award.
FT online - The Telegraph - vice - Agence France Presse
Laughing Matters Presented the Mischievous Muslim
Shazia Mirza's
Cuckoolands in Paris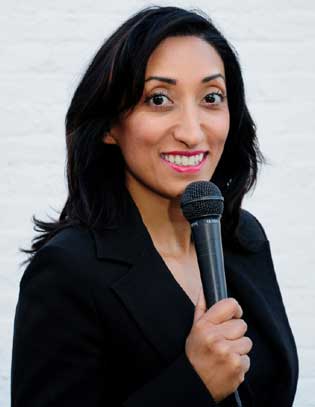 As seen on TV and a Prayer Mat
Tuesday September 24th 2013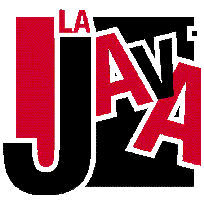 105, rue du faubourg du Temple Paris 10

Shazia will be nesting in Paris with her Cuckooland show that she's toured the UK with
and over the summer performed in California.
Hope she had a map and didn't get lost. I'll ensure she has one this time.
Great fun-da-mental stand-up on route to la Java.
Shazia Mirza is an award winning British stand up comedian and writer originally from Birmingham England. Although she doesn't live there anymore because she's doing well.
She works all over the world and has toured the US, Sweden, Denmark, France Holland and Germany.
She has appeared on CBS 60 Minutes, NBC's Last Comic Standing, and Have I got News for You (BBC), France 24 and the infamous Thierry Ardisson show in France.
---
Shazia could have married a rich man and lived in a mansion on The Bishops Avenue, with servants, bidets, and horses. But instead she chose to drive up and down the country for as little as ten pounds, staying in dirty lurid bed and breakfasts trying to make people laugh.She thought of giving up, but no man wants to marry her, now that's she's dabbled in jokes and fingered a few white men on the 38 bus.
She hopes one day to have a cleaner and a jacuzzi.
"Her laconic one-liners represent something quite unique in modern comedy."
William Cook, The Guardian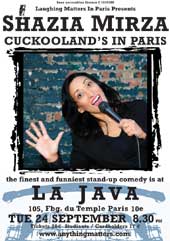 ---
---
---